HIGHLY FLEXIBLE COUPLINGS
These parts are manufactured by VULKAN COUPLINGS, Germany pioneers in marine drive technology.
Furtermore, VULKAN components are used in powerplant facilities or in industrial applications as well.
VULKAN production program includes following types, most available from the manufacturing site in Germany but some common ones are also available from our warehouse in Moschato: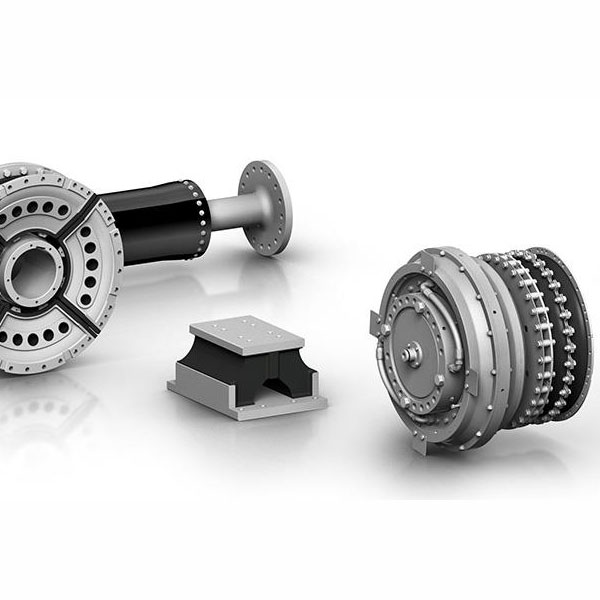 The VULKARDAN F is the successor of the well-established VULKARDAN E and complements the VULKAN highly flexible couplings product portfolio below the RATO R torque range. In comparison to similar couplings, the VULKARDAN F is characterized by a very compact design, resulting in a weight reduction and a very short installed length. Furthermore, the optimized design of the element increases heat dissipation considerably, which results in high power loss. Accordingly, VULKARDAN F highly flexible couplings can also be installed in applications with high alternating torques, and temperature-induced aging processes are efficiently reduced.
The VULKARDAN F is suitable for flexibly mounted drive systems and makes it possible to compensate radial, axial, and angular offsets by using a very soft element in combination with a high-performance membrane. The Vulkardan F is available in four rubber qualities as well as in silicone, enabling perfect torsional tuning of the drive train. With its highly flexible torsial elements, the Vulkardan F is specially designed to avoid gearbox rattling in small gearboxes. In addition, a modular tuning mass is available that can be attached after the installation of the coupling to achieve the highest comfort requirements.
Benefits
Compact and short-build design for the smallest possible space requirements and easy handling. Vulkardan F rubber and silicone couplings achieve effective vibration protection and high displacement capacity, which guarantees the protection of connected machinery and therefore the highest system availability.
Low weight for the protection of engine bearings and reduction of service costs
Optional tuning mass is used for subsequent fine-tuning and the achievement of the highest possible comfort.
Due to the high permanent power loss, Vulkardan F highly flexible couplings are suitable for all propulsion and generator applications.
Technical Data
Torque Range TKN [kNm]
5.20 kNm - 32.50 kNm
Speed range [1/min]
2,100 RPM - 2,750 RPM