HIGHLY FLEXIBLE COUPLINGS
These parts are manufactured by VULKAN COUPLINGS, Germany pioneers in marine drive technology.
Furtermore, VULKAN components are used in powerplant facilities or in industrial applications as well.
VULKAN production program includes following types, most available from the manufacturing site in Germany but some common ones are also available from our warehouse in Moschato: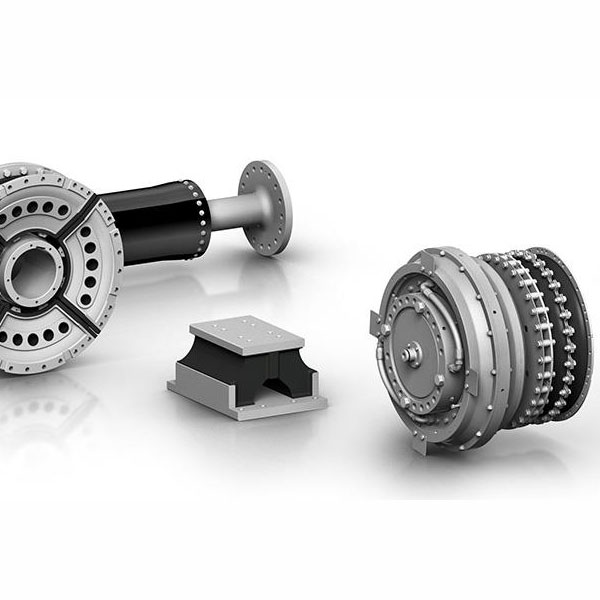 The Vulkardan E coupling is a highly flexible natural rubber torsional coupling for free-standing installations. The Vulkardan E is optimized to compensate radial misalignments and is able to give the best performance, especially in flexible-mounted engine installations. Through a connection with a spline, an additional series of the Vulkardan E designed for bellhousing applications is available. Four natural rubber qualities are available in order to tune the coupling to the various system requirements. As an alternative, elements in silicone with a progressive stiffness characteristic and for high-temperature applications are available.
Benefits
Vulkarden E highly flexible rubber couplings provide efficient damping of torsional vibration and balance shock impacts as well as radial, axial, and angular displacements.
A high level of flexibility in the solution is provided by the natural rubber and silicone versions.
Effective vibration damping and high displacement capacity ensure protection and, therefore, availability of the drive, while the plug-in design of the highly elastic coupling enhances ease of assembly in bell-shaped housings.
Technical Data
Torque Range TKN [kNm]
0.21 kNm - 26.00 kNm
Speed range [1/min]
1,900 RPM - 7,500 RPM