HIGHLY FLEXIBLE COUPLINGS
These parts are manufactured by VULKAN COUPLINGS, Germany pioneers in marine drive technology.
Furtermore, VULKAN components are used in powerplant facilities or in industrial applications as well.
VULKAN production program includes following types, most available from the manufacturing site in Germany but some common ones are also available from our warehouse in Moschato: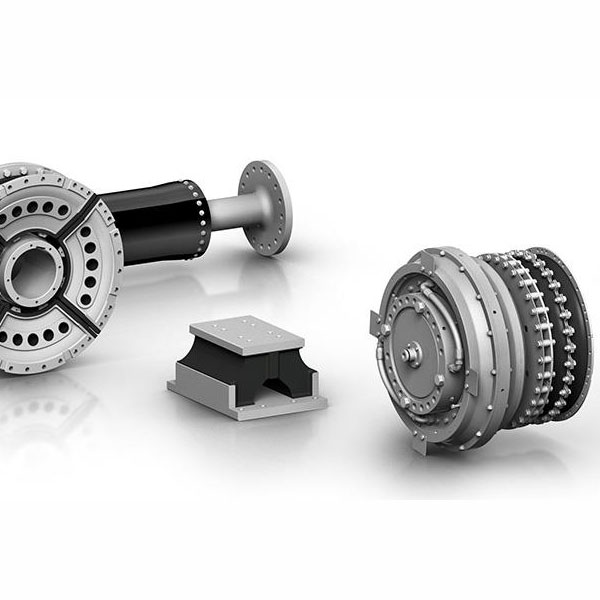 The highly flexible RATO S and RATO S+ couplings are torsionally flexible rubber couplings that compensate radial, axial, and angular shaft displacements of the connected machinery. The torque is transmitted by elements loaded into shear. The different torsional stiffnesses and damping factors available provide the possibility of satisfactorily tuning the torsional vibration behavior of the drive system. The essential parts of the coupling are the torsional flexible element, the membrane package to absorb the axial and angular displacements, and the connecting parts to the drive and driven machinery.
Benefits
Easy and quick installation of the high-torque flexible coupling thanks to the segmented design with reduced weights of the individual segments
The segments are arranged for maximum thermal load and, therefore, a long service life of the system.
Compact torsionally couplings with an internal hub for space-conserving and weight-saving drive dimensions in order to cut down on the project costs.
With the introduction of the ACOTEC range, smaller sizes with higher power density provide a good price-performance ratio.
Technical Data
Torque Range
TKN [kNm] 12.50 kNm - 800.00 kNm
Speed range [1/min]
500 RPM - 2,100 RPM