PROPELLER SHAFT COUPLINGS
These parts are manufactured by VULKAN COUPLINGS, Germany pioneers in marine drive technology.
Furtermore, VULKAN components are used in powerplant facilities or in industrial applications as well.
VULKAN production program includes following types, most available from the manufacturing site in Germany but some common ones are also available from our warehouse in Moschato: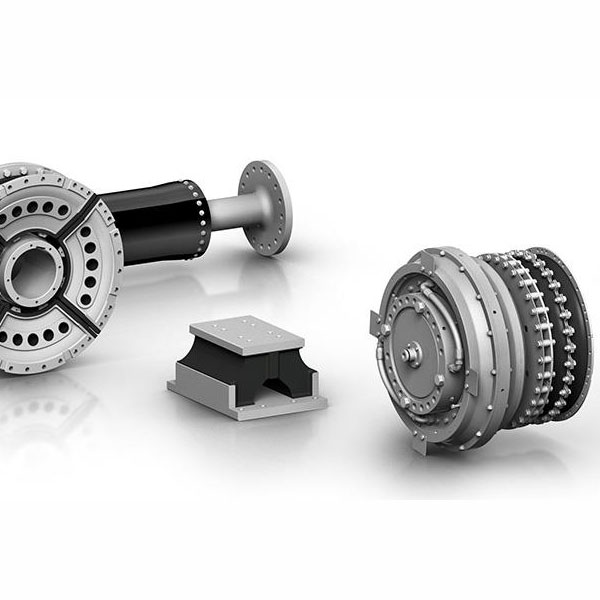 The PROPFLEX coupling is a flexible displacement coupling for various areas of application. The torque is transmitted with the simultaneous compensation of displacements by means of rubber bushings. These specially developed rubber bushings achieve noise-dampening properties that are clearly superior to conventional displacement couplings. The PROPFLEX coupling thus meets the highest demands for comfort by isolating the vibrations of the gearbox from the ship's structure.
The PROPFLEX portfolio consists of three different versions: the displacement coupling PROPFLEX N and the propeller shaft couplings PROPFLEX S and PROPFLEX T. The PROPFLEX N is characterized by excellent displacement capabilities while at the same time isolating vibrations, with the PROPFLEX S combining these product strengths with an integral thrust absorber for transmission of the propeller thrust. The PROPFLEX T is the combination of a PROPFLEX N with a thrust bearing, which enables the full absorption of the propeller thrust. Optimal noise reduction results can be achieved with a PROPFLEX T.
In combination with elastic bearings, the PROPFLEX coupling represents an elementary building block in the overall acoustic concept.
product benefits
Noise insulation of the drive train for high comfort requirements




Compensation for radial, axial and angular displacements to reduce restoring forces in order to guarantee the availability of the drive

Modular design and variable installation lengths for maximum solution flexibility

Acoustic overall concepts with Vulkan transmission and engine mounts and PROPFLEX couplings for the highest comfort requirements
Technical Data
Torque Range TKN [kNm]
2.80 kNm - 53.20 kNm
Speed range [1/min]
500 RPM - 1,600 RPM