HIGHLY FLEXIBLE COUPLINGS
These parts are manufactured by VULKAN COUPLINGS, Germany pioneers in marine drive technology.
Furtermore, VULKAN components are used in powerplant facilities or in industrial applications as well.
VULKAN production program includes following types, most available from the manufacturing site in Germany but some common ones are also available from our warehouse in Moschato: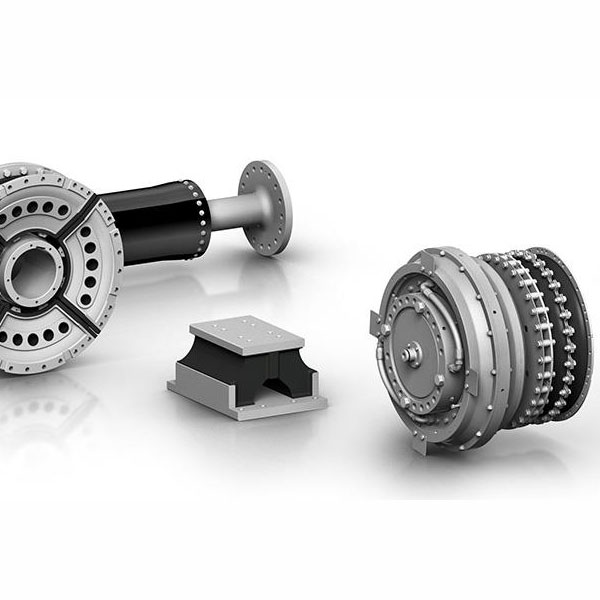 The MEGIFLEX B coupling is a versatile, highly flexible torsional coupling. With its modular design in combination with a compression-loaded element, the MEGIFLEX B complements the VULKAN product portfolio, encompassing the torque range of small VULKARDAN E and VULASTIK L couplings. Due to its torsionally soft, shock-absorbing behavior and high radial, axial, and angular displacement capabilities the rubber element can meet a highly diverse range of requirements. Typical applications are in main propulsion; in particular with small pods or auxiliary drives such as PTO/PTI with connected power units. The MEGIFLEX B is available in 15 sizes, each with 3 rubber stiffness classes that can be either radially assembled or plugged in axially, depending on the series. In addition to the compact design, the double cardanic MEGIFLEX B series is versatile as a highly displacing and torsionally flexible drive shaft for a broad range of installation situations. The MEGIFLEX B is designed with an in-built fail-safe device.
Benefits
Through its modular design; it can endure high radial, axial and angular displacements and as a torsionally flexible Cardan shaft, the MEGIFLEX B can be used in various applications for the highest solution flexibility.
Effective vibration damping and a high displacement capacity guarantee the protection of connected machinery and thus the high availability of the drive shaft system.
Easy installation as elements are either assembled axially bolted or plugged in.
Noise dampening for the highest comfort standards
Technical Data
Torque Range TKN [kNm]
0.01 kNm - 5.50 kNm
Speed range [1/min]
2,500 RPM - 10,000 RPM