These parts are manufactured by VULKAN COUPLINGS, Germany pioneers in marine drive technology.
Furtermore, VULKAN components are used in powerplant facilities or in industrial applications as well.
VULKAN production program includes following types, most available from the manufacturing site in Germany but some common ones are also available from our warehouse in Moschato: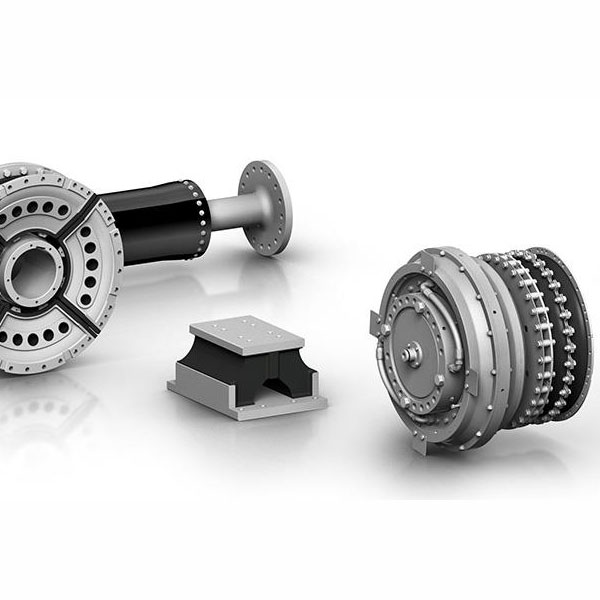 • Monitoring of the mean twist angle up to a 60-degree twist.
• Monitoring of dynamic vibratory twist angle and torsional amplitudes, 
drive side and driven side, up to 30 degrees.
• Measuring and monitoring of the drive side and driven side 
 torsional vibrations.
• Measuring and monitoring transient operating conditions,
 like starting/stopping, maneuvering.
• Order-dependent frequency analysis of the measuring signal with 
 simultaneous monitoring of up to 8 engine orders.
• Graphical display on connected PC. 
• Alarm trigger for all monitoring thresholds with alarm indication
 over 2 x LED´s and 2 x relays suitable for up to 30 volts, current 
 up to 3 amps.
• Alarm thresholds up to four speed ranges.
• Automatic protocol of alarms and current values of the monitored 
parameters with an actual limit value on an internal storage medium.
• Limits can be set via an Ethernet-connected laptop, password protected.
• Data logging of events, stored for subsequent analysis using graphic
viewer or export.
• Power input from 18 to 34 V DC.
• ABS type approved.
Benefits
• MDS 2 twist angle monitor enables operators to plan maintenance 
work on the monitored drive train based on the measured condition
status, reducing downtime and cost.
• Sensors measuring against existing bolt heads.
• MDS 2 in combination with a clutch is approved by ABS to disengage
the drive train in case of overload, reaction time 80 ms.
• Worldwide VULKAN after-sales service by internet connection
via PC to MDS 2.